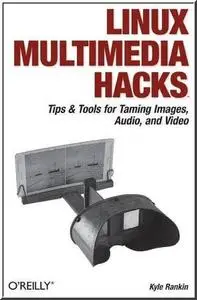 Linux Multimedia Hacks by Kyle Rankin
Publisher: O'Reilly Media; 1 edition (December 1, 2005) | ISBN-10: 0596100760 | CHM | 1,7 Mb | 310 pages
The fact that Linux has more multimedia application choices than Mac OS X and Windows combined may come as a surprise to many, but not to those who know Linux well. In Linux Multimedia Hacks, author Kyle Rankin showcases the best available multimedia tools so you can maximize the entertainment capabilities of your favorite OS. Included are tips and tricks for connecting to iPods, creating MP3s and Oggs, watching and making DVDs, turning your Linux box into a Tivo ala MythTV, and much more.
You don't have to be a Linux server guru to make use of this book. Linux Multimedia Hacks takes the best of Linux's multimedia tools and with step-by-step instructions shows even novice users how to do cool and useful things with images, audio, and video. It includes entry level hacks that nearly all Linux users will want, such as installing codecs for audio and video playback and managing thousands of photographs. Later, you'll find hacks that cover a variety of advanced projects, from ripping and organizing media files with metatags, to editing video and audio tracks, to creating your own DVDs. Basic or advanced, each hack stands on its own, so you can feel free to jump around to only the sections that interest you.