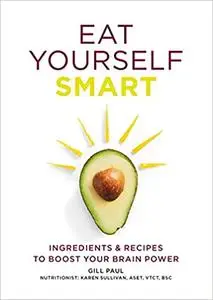 Gill Paul, Karen Sullivan, "Eat Yourself Smart: Ingredients & recipes to boost your brain power"
English | 2016 | pages: 128 | ISBN: 0600630862 | EPUB | 5,6 mb
Stimulate your little grey cells with these delicious brain-booster foods.
If you have trouble concentrating, coming up with ideas or thinking clearly, eating more of the brain-activity-enhancing foods in this book can help.
Featured in this book are the key foods that have been proven to benefit brain functions: beetroot, brown rice, coffee, kidney beans, pecans and strawberries among other tasty ingredients. A clever problem-solver helps you choose the ingredients that bring benefits ranging from mental alertness, longer attention span and restful sleep to prevention of dementia.
With over 60 easy-to-follow, quick-to-prepare, completely delicious recipes, and weekly meal planners, Eat Yourself Smart is the perfect way to cook yourself clever and achieve optimum health.
Gill Paul is a non-fiction author and novelist. She studied Medicine at Glasgow University before deciding that a doctor's life was not for her. In non-fiction she specializes in Health and is the author of a number of titles including Food Hospital (tie-in to a major Channel 4 series), published by Penguin, and Perfect Detox.
My Link