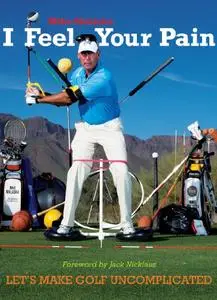 Mike Malaska, "I Feel Your Pain: Let's Make Golf Uncomplicated 1st edition by Mike Malaska"
English | 2013 | ISBN: 0615791557 | EPUB | pages: 274 | 22.2 mb
2011 National PGA Teacher of the Year, Mike Malaska shows you the most uncomplicated way to learn, or re-learn, the game of golf.
Mike teaches you as if he's standing by your side with this coffee table, easy-to-read instructional picture book. 500 beautiful pictures, simple captions, and 274 pages of down-to-earth explanations is what makes this product different than any other in the market.
There's no one tip or fundamental that lets you play great golf. Actually, there are ten of them. "I Feel Your Pain" introduces the ten modern fundamentals of golf, covering everything from Mental Game to Full Swing.
Mike Malaska's knowledge of the golf swing is based on his knowledge of the body. Mike earned a degree in business management at Weber State, and then learned physiology by studying for 5 years under Pete Egoscue. His passion for golf at the professional level ultimately led him to the Nicklaus/Flick Golf Schools in 1991. Mike is now the worldwide director of instruction for Jack Nicklaus and the Nicklaus Golf Schools, Director of Education for TaylorMade/Adidas, and the Director of Instruction at Superstition Mountain Country Club.
Mike bases his teaching on a student's physical capability, so his philosophy is simple…
"Teaching is about the individual not about a method. Understanding the students physical, mental and technical abilities make it possible to set priorities to reach their potential to play the game."