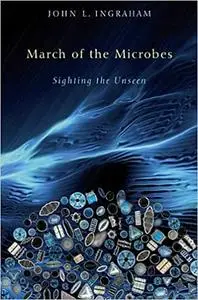 John L. Ingraham, Roberto Kolter, "March of the Microbes: Sighting the Unseen"
English | 2012 | pages: 337 | ISBN: 0674064097 | PDF | 5,7 mb
Though nothing in the natural world would be quite the same without them, microbes go mostly unnoticed. They are the tiny, mighty force behind the pop in Champagne and the holes in Swiss cheese, the granite walls of Yosemite and the white cliffs of Dover, the workings of snowmaking machines, Botox, and gunpowder; and yet we tend to regard them as peripheral, disease-causing, food-spoiling troublemakers. In this book renowned microbiologist John Ingraham rescues these supremely important and ubiquitous microorganisms from their unwonted obscurity by showing us how we can, in fact, see them―and appreciate their vast and varied role in nature and our lives.
Though we might not be able to see microbes firsthand, the consequences of their activities are readily apparent to our unaided senses. March of the Microbes shows us how to examine, study, and appreciate microbes in the manner of a birdwatcher, by making sightings of microbial activities and thereby identifying particular microbes as well as understanding what they do and how they do it. The sightings are as different as a smelly rock cod, a bottle of Chateau d'Yquem, a moment in the Salem witch trials, and white clouds over the ocean. Together they summarize the impact of microbes on our planet, its atmosphere, geology, weather, and other organisms including ourselves, to whom they dole out fatal illnesses and vital nutrients alike.
In the end, Ingraham leaves us marveling at the power and persistence of microbes on our planet and gives credence to Louis Pasteur's famous assertion that "microbes will have the last word."
My Link