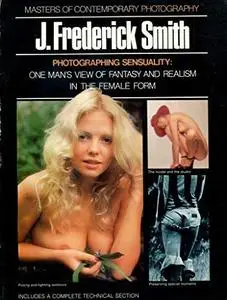 J. Frederick Smith: Photographing Sensuality: One Man's View of Fantasy and Realism in the Female Form by Sean Callahan
English | 1975 | ISBN: 0690007817 | 100 pages | PDF | 106 MB
This book explores photography in a unique way. It is part of a series in which the world's most accomplished professional photographers have consented to teach by sharing their own experiences, both artistic and personal.
For the first time a reader interested in photography —and beyond that, in creativity itself —may look through the working materials of the professional. You will find examples of contact sheets, experimental shots and trial magazine layouts as well as the pictures finally selected from any given assignment. The result is not an average "how to do it" course but an exceptional "how I do it" series from the greatest internationally recognized names in contemporary photography.
In Photographing Sensuality, J. Frederick Smith gives full technical details for his best pictures, commenting on lighting, lenses, camera angies and the skills that make his work the standard of excellence. His book, however, does more than explain the style and technique of photographs that show one man's view of the female form. It brings to life the impulses, the thoughts, the frailties, the creative processes that go into every picture.