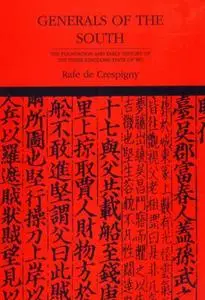 Generals of the South: the foundation and early history of the Three Kingdoms state of Wu by Rafe De crespigny
English | PDF | 2018 | 600 Pages | ISBN : 0731509013 | 16.35 MB
The present volume is concerned with one aspect of that great tradition: the development of the state of Wu, under control of the Sun family, in the territory south of the Yangzi.
The establishment of this separate state, and its maintenance for the best part of a hundred years, was a critical factor for the centuries that followed. On the one hand, the independence of Wu prevented Cao Cao, victor of the civil war in the north, from restoring the unity which had been lost by the last emperors of Han.
At the same time, however, by confirming and developing a Chinese presence in that frontier territory, the generals of Wu established the conditions not just for their own short-lived political survival, but also for the dynasties which took refuge there after the overthrow of Western Jin at the beginning of the fourth century, and which maintained their cultural heritage through the next three hundred years.
Visit My Blog For Daily Very Exclusive Content,We Are Here For You And Without You And Your

Support

We Can't Continue
Thanks For Buying Premium From My Links For

Support