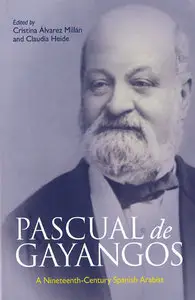 Pascual de Gayangos: A Nineteenth-Century Spanish Arabist
Publisher: Edinburgh University Press | ISBN: 0748635475 | edition 2008 | PDF | 264 pages | 1,44 mb
Pascual de Gayangos (1809-1897), a celebrated Spanish Orientalist and polymath, is known for being the father of modern Spanish Arabic studies. Allowing Islamic Spain to speak with its own voice, Gayangos identified for the first time Spain's internal (as opposed to external) processes of establishing an "other." This collection, the first major study of Gayangos, marks the two hundredth anniversary of his birth and covers a wide range of subjects, including scholarship on the culture of Islamic and Christian Spain; history, literature, and art; conservation and preservation of a national heritage; formation of archives and collections; education; tourism; diplomacy; and politics. Synthesizing and interpreting Gayangos's interdisciplinary brilliance, this tribute reinstates the scholar's influence on the study of nineteenth-century Spanish, British, and North American culture. Gayangos's scholarly achievements and influence are believed to have a political dimension, and his work must be seen in relation to the nineteenth-century quest for a national identity: what was the significance of Spain's Islamic past and the Imperial Golden Age to the culture of modern Spain? These chapters, informed by postcolonial theory, reception theory, and theories of national identity, uncover some of the complexities of the process that shaped Spain's national identity. Gayangos is shown to be a figure with many facets and several intellectual lives: Arabist, historian, liberal, researcher, editor, numismatist, traveller, translator, diplomat, spy (perhaps), a generous collaborator, and one of Spain's greatest bibliophiles.