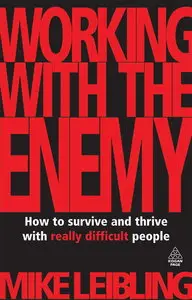 Working with the Enemy: How to Survive and Thrive with Really Difficult People by Mike Leibling
English | 2009-10-28 | 160 Pages | ISBN: 0749454679 | PDF | 1,1 MB
Working with the Enemy describes survival strategies for working with 15 very difficult personality types. It shows how to take control of an "enemy" situation and turn it around. The book clarifies what makes these "enemies" so difficult, and it shows how to deal with them and prevent future difficult situations.
This book looks in general at how to understand what we are doing "wrong" and gives advice on how to handle ourselves differently. The many case studies, tips, techniques and strategies will help readers respond to "enemy" co-workers in a thoughtful, strategic, and constructive way.