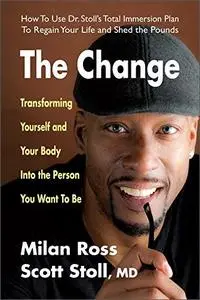 The Change: Transforming Yourself and Your Body Into the Person You Want to Be by Milan Ross, Scott Stoll
English | May 9, 2016 | ISBN: 0757004326 | EPUB | 240 pages | 7.1 MB
Working at Whole Foods had been good to Milan Ross. It not only allowed him to earn a decent living but also provided his family the medical insurance his family so desperately needed. But it wasn't until Milan was offered the opportunity to attend Dr. Stoll's Immersion program that his life totally changed. This is the story of how Milan Ross lost two hundred and twenty-five pounds of excess weight and found the passion his life had been missing.
Since 2010, Dr. Scott Stoll, a medical doctor and past Olympic athlete, has conducted a week-long intensive health program. The seven-day course provides the most up-to-date information on nutrition, achievable exercise, and culinary education, as well as encouragement, coaching, and vision casting. While food is the centerpiece of the program, it is meant to be a transformational experience that forever changes the attitudes, habits, and lives of those who attend the program―all in just one week. It was to this program that Whole Foods sent Milan Ross.
The Change not only tells the personal story of Milan Ross and what he experienced during that crucial week of his life but also provides the voice of Dr. Stoll, who takes the reader through the very same program Milan experienced. Unlike weight-loss books that offer quick fixes to lose the pounds, The Change is designed to look within each individual and see what is driving him or her to eat food that is known to be unhealthy. Based on science and inner strength, which is the true seed of change, this book is meant to have its readers lose weight and be healthy not for just a month or a year but for a lifetime.