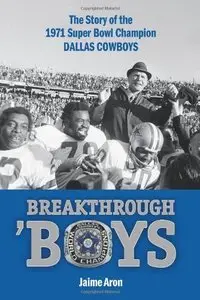 Jaime Aron, "Breakthrough 'Boys: The Story of the 1971 Super Bowl Champion Dallas Cowboys"
English | ISBN: 0760340390 | 2011 | EPUB | 304 pages | 17,3 MB
The Dallas Cowboys of the 1970s were one of the most dominant teams in pro football history, appearing in five Super Bowls and claiming two championships in a nine-year span. But during the late 1960s, the Cowboys were known as the team that couldn't win the big one, getting close to the top but failing to seal the deal—they were perpetually "next year's champions." That all changed in 1971 when the Boys rallied to capture their first-ever title and put the franchise on its way to becoming "America's Team." In Breakthrough 'Boys, Jaime Aron gets the inside stories from former players, coaches, and other key figures to explore the fascinating and tumultuous road the Cowboys took to their first championship in 1971 under coach Tom Landry. Eight years after the assassination of JFK and seven years before the arrival of J. R. Ewing, this team gave the city of Dallas the new identity it needed and changed the face of football forever.