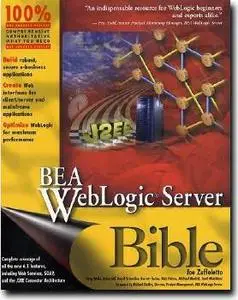 BEA Weblogic(R) Server Bible by Joe Zuffoletto, Gary Wells, Brian Gill, Geoff Schneider, Barrett Tucker, Rich Helton, Michael Madrid, Sunil Makhijani
Publisher: John Wiley & Sons; 1st edition (February 21, 2002) | ISBN: 0764548549 | PDF | 15 Mb | 1000 pages
Provides a comprehensive, hands-on guide to the nuts and bolts of installing, administering and troubleshooting a WebLogic Server and building enterprise applications that take advantage of WebLogic's strong support of the J2EE standard. Covers version 6.1. Softcover.
Download from Rapidshare
or
Download from Depositfiles