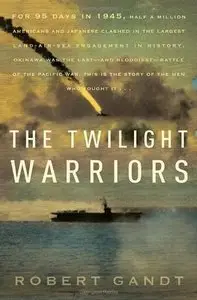 The Twilight Warriors By Robert Gandt
Publisher: Bro..adw..ay 2010 | 400 Pages | ISBN: 0767932412 | EPUB + PDF | 8 MB + 6 MB
Former navy pilot and military historian Gandt (Season of Storms) is a first-rate storyteller, and here he focuses on an aspect of the Battle of Okinawa sometimes overshadowed by the bitter fighting on land: Okinawa was the most expensive naval battle in American history, with almost 10,000 American casualties. Thirty ships were lost, and over 350 more were damaged, many beyond repair. Gandt uses operational history to structure the naval campaign's human dimensions. He describes Japan's development of a kamikaze force so effective that American admirals deployed picket lines of small, expendable warships to absorb the attacks' initial impact. The author portrays senior officers aged beyond their years by the unending stresses of command. He recreates fighter cockpits as carrier pilots tackle the kamikazes and the escorts determined to bring them through. He boards ships desperately fending off attackers no less determined to make their dying count. On the waters off Okinawa it was kill or be killed. As Gandt ably shows, Okinawa taught President Truman a grim lesson: "any weapon," even an atomic bomb, "was preferable to an invasion" of Japan.
!!!No Mirrors below, please! Follow Rules!