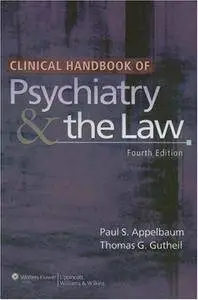 Paul S. Appelbaum MD, Thomas G. Gutheil MD, "Clinical Handbook of Psychiatry and the Law, 4th Edition"
English | ISBN: 0781778913 | 2007 | 336 pages | PDF | 1 MB
Thoroughly updated for its Fourth Edition, this award-winning handbook gives mental health professionals authoritative guidance on how the law affects their clinical practice. Each chapter presents case examples of legal issues that arise in practice, clearly explains the governing legal rules, their rationale, and their clinical impact, and offers concrete action guides to navigating clinico-legal dilemmas. This edition addresses crucial recent developments including new federal rules protecting patients' privacy, regulations minimizing use of seclusion and restraint, liability risks associated with newer psychiatric medications, malpractice risks in forensic psychiatry, and new structured assessment tools for violence risk, suicidality, and decisional capacity.