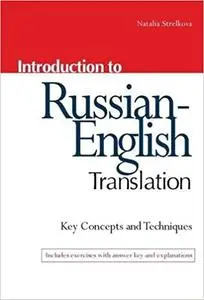 Natalia Strelkova, "Introduction to Russian-English Translation: Tactics and Techniques for the Translator"
English | 2012 | ISBN: 0781812674 | 172 pages | PDF | 42.6 MB
This text provides Russian-English translators with essential tools needed to improve their translation skills.
This practical, hands-on book is suited for anyone involved in Russian-English translation, including professional translators, interpreters, and advanced students. Author Natalia Strelkova imparts over 35 years of experience as a translator and editor, with an emphasis on translating journalistic idiom. A focus on the conversational Russian of everyday life — plus dozens of examples and practice exercises — prepare the user for the day-to-day work of translating and editing.
Russian is the most widely-spoken Slavic language, and its 280 million speakers make it the fifth most-spoken language in the world. Seven chapters cover topics such as:
The Translation Process
What is Accuracy?
How Professionals Maneuver around Difficulties
Achieving Readability
Notes on Everyday Russian Culture