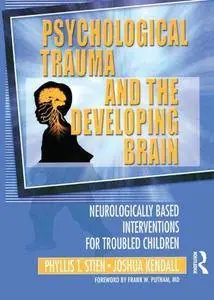 Psychological Trauma and the Developing Brain: Neurologically Based Interventions for Troubled Children by Phyllis Stien, Joshua C Kendall
2003 | ISBN: 0789017881, 0789017873 | English | 282 pages | PDF | 4 MB
Explore interventions and treatment methods designed to help curb the alarming trend toward violence in today's youth!
Written in jargon-free lucid prose, Psychological Trauma and the Developing Brain: Neurologically Based Interventions for Troubled Children specifically shows how positive early experiences enhance brain development and how traumatic life experiences, especially child abuse and neglect, can affect a child's brain and behavior. Through carefully selected case studies, the book offers basic principles of treatment and a broad range of interventions that target the multiple symptoms and problems seen in children with a history of childhood trauma.
Offering a new psychobiological model of child development, this book incorporates the influence of both genes and the environment and conceptualizes normal and pathological development in terms of common underlying processes. For readers concerned with promoting healthy development in children and helping children recover from childhood trauma, this engagingly written book describes exactly how a child's social/interpersonal environment can positively or negatively influence brain development.
Throughout the book, the authors highlight the interrelationship between neurobiology and psychology. They present basic information about brain development and organization, describe exactly what is going on inside the brain at each stage of development, and illustrate these concepts through a detailed case study of a preschooler with severe problems in communicating and relating. They discuss the pernicious effects that traumatic stress has on brain and behavior, differentiating between simple and complex PTSD, and review the specific brain impairments currently attributed to a childhood history of maltreatment. Using their unique psychobiological perspective and illustrative case studies, the authors evaluate the principles and strategies of treatment, showing how relationships and experiences can mitigate the effects childhood trauma. After fleshing out the shocking cost to society of child maltreatment, the authors offer broad policy prescriptions that promote healthy development, including basic strategies for prevention and early intervention.
Psychological Trauma and the Developing Brain: Neurologically Based Interventions for Troubled Children will show you:
how interpersonal experience shapes brain development
what is going on in the brain during the critical first six years
how therapeutic relationships and interpersonal experience can promote emotional and cognitive development
how childhood maltreatment can damage the brain and impair the developing mind
what types of experiences and therapeutic strategies can mitigate the effects of childhood trauma
what policy prescriptions, programs, and early intervention strategies can be implemented to promote healthy development