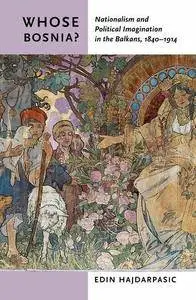 Whose Bosnia?: Nationalism and Political Imagination in the Balkans, 1840-1914 by Edin Hajdarpasic
English | 2015 | ISBN: 0801453712 | 288 pages | PDF | 5,7 MB
As the site of the assassination that triggered World War I and the place where the term "ethnic cleansing" was invented during the Yugoslav Wars of the 1990s, Bosnia has become a global symbol of nationalist conflict and ethnic division. But as Edin Hajdarpasic shows, formative contestations over the region began well before 1914, emerging with the rise of new nineteenth-century forces―Serbian and Croatian nationalisms as well as Ottoman, Habsburg, Muslim, and Yugoslav political movements―that claimed this province as their own. Whose Bosnia? reveals the political pressures and moral arguments that made this land a prime target of escalating nationalist activity.
To explain the remarkable proliferation of national movements since the nineteenth century, Hajdarpasic draws on a vast range of sources―records of secret societies, imperial surveillance files, poetry, paintings, personal correspondences―spanning Bosnia, Serbia, Croatia, Turkey, and Austria. Challenging conventional readings of Balkan histories, Whose Bosnia? provides new insight into central themes of modern politics, illuminating core subjects like "the people," state-building, and national suffering. Hajdarpasic uses South Slavic debates over Bosnian Muslim identity to propose a new figure in the history of nationalism: the (br)other, a character signifying at the same time the potential of being both "brother" and "Other," containing the fantasy of both complete assimilation and insurmountable difference. By bringing such figures into focus, Whose Bosnia? shows nationalism to be an immensely dynamic and open-ended force, one that eludes any clear sense of historical closure.
My nickname -
interes