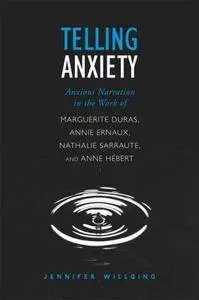 Telling Anxiety: Anxious Narration in the Work of Marguerite Duras, Annie Ernaux, Nathalie Sarraute, and Anne Hébert by Jennifer Willging
English | 2007 | ISBN: 0802092764 | 304 pages | PDF | 2,2 MB
From two world wars to rapid industrialization and population shifts, events of the twentieth century engendered cultural anxieties to an extent hitherto unseen, particularly in Europe. In Telling Anxiety, Jennifer Willging examines manifestations of such anxieties in the selected narratives of four women writing in French – Marguerite Duras, Nathalie Sarraute, Annie Ernaux, and Anne Hébert. Willging demonstrates that the anxieties inherent in these women's works (whether attributed to characters, narrators, or implied authors) are multiple in nature and relate to a general post-Second World War scepticism about the power of language to express non-linguistic phenomena such as the destruction and loss of life that a large portion of Europe endured during that period.
Willging maintains that while these women writers are profoundly wary of language and its artificiality, they eschew the radical linguistic scepticism of many post-war male writers and theorists. Rather, she argues, the anxiety that these four writers express stems less from a loss of faith in language's referential function than from a culturally ingrained doubt about their own ability as women to make language reflect certain realities. Ultimately, Telling Anxiety shows the crippling obstacles of literary agency for women in the twentieth century from the perspective of those who fully understood the significant responsibility of their work.