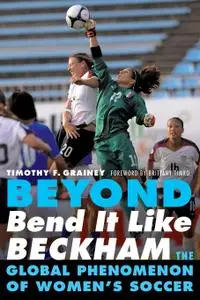 Beyond Bend It Like Beckham: The Global Phenomenon of Women's Soccer by Timothy F. Grainey
English | May 1, 2012 | ISBN: 0803234708 | 304 Pages | EPUB | 3.74 MB
Though it burst into public consciousness only with the 1999 World Cup, women's soccer has been around almost as long as its male counterpart, flourishing in England during and after World War I. From the rise of women's soccer following Title IX legislation in the early seventies to the watershed 1999 World Cup performance that turned the American team into instant celebrities, soccer is now the most popular sport for girls and women, with participation growing exponentially worldwide. Beyond "Bend It Like Beckham" presents the first in-depth global analysis of the women's game—both where it has come from and where it is headed. With commentary from key players, coaches, and administrators, Timothy F. Grainey follows the sport's reach into the unlikeliest places today, even countries where women were banned from playing soccer just a few short years ago.
Though women in the United States and Canada still fight for equal treatment and funding, their situations differs markedly from the hostility, abuse, and even outright bans that some women still encounter in trying to pursue an activity they love. Through the prism of soccer, this book explores the struggle for women's rights abroad, in countries as diverse as Sweden, Russia, South Africa, Pakistan, Australia, and Iran.