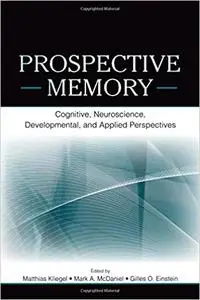 Matthias Kliegel, "Prospective Memory: Cognitive, Neuroscience, Developmental, and Applied Perspectives"
English | ISBN: 080585858X | 2007 | 488 pages | PDF | 11 MB
Over the last decade, the topic of prospective memory – the encoding, storage and delayed retrieval of intended actions – has attracted much interest, and this is reflected in a rapidly growing body of literature: 350 scientific articles have been published on this topic since the appearance of the first edited book in 1996. In addition to the quantity, the quality and diversity of approaches to research in the field has also developed rapidly.
Prospective Memory provides an accessible, integrated guide to the expanded literature on the topic. While many of the authors also contributed to the 1996 book and can be regarded as the founders of current prospective memory research, other contributions come from authors who are relatively new to the field and who are examining broader aspects of prospective memory and, as a result, extending our understanding of it. Besides more generally reviewing the expanded literature, all authors have been encouraged to consider future directions for research and to raise questions that they believe all researchers in this area will need to address. The book is divided into four sections that together provide a broad and deep introduction to the cognitive, neuroscience, developmental, and applied aspects of prospective memory. Following the model of the first prospective memory volume, prominent memory researchers evaluate the papers in each section and comment more generally on the state of prospective memory research in the four major areas targeted.