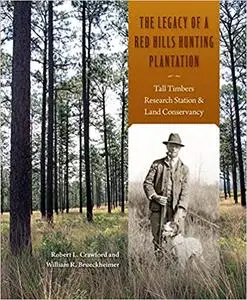 Robert L. Crawford, William R. Brueckheimer, "The Legacy of a Red Hills Hunting Plantation: Tall Timbers Research Station & Land Conservancy"
English | 2012 | ISBN: 0813041481 | PDF | pages: 353 | 60.7 mb
The Red Hills region is an idyllic setting filled with longleaf pine grasslands that stretches from Tallahassee, Florida, to Thomasville, Georgia. At its heart lies Tall Timbers, a former hunting plantation turned ecological research station.
          In 1919, sportsman Henry L. Beadel purchased a plantation and renamed it Tall Timbers. As was the tradition, Beadel burned the woods after every hunting season in order to keep them clear of the thick brush required by ground foraging birds like quail. After the U.S. Forest Service condemned the practice in the 1920s as harmful for the forest and its wildlife, the quail population diminished dramatically.
          Encouraged by his longtime friend Herbert L. Stoddard, who was conducting scientific bird research on his property, Beadel set his sights on conserving the land in order to study, among other things, the effects of fire on plants and wildlife. In 1958, Beadel, Stoddard, and others established Tall Timbers Research Station Inc. as a private, nonprofit corporation devoted to scientific purposes, and upon his death, Beadel donated his entire Tall Timbers estate to be used for ecological research in perpetuity.
          This history of Tall Timbers is complemented by a wealth of unique and unpublished photographs that are in the site's archival collections, including photographs from the late nineteenth century—many taken by Henry Beadel himself, who was both an accomplished and compulsive photographer. The book traces the transformation of the plantation into what its founders envisioned—a long-term plot study station, independent of government or academic control. It also reveals fascinating insights into the life of the wealthy landowner, Beadel, and his association with renowned naturalist Stoddard, which influenced his evolution from a sportsman to a naturalist and finally to a conservationist.
          The original text was written between 1973 and 1984 by Tall Timbers Beadel Fellow William R. Brueckheimer as an outcome of his research on the Red Hills quail plantations and their land-use practices. The manuscript, which ended chronologically with the founding of Tall Timbers Research Station, languished in the station's library for decades after completion. It passed through several hands until Robert Crawford was tasked with the assignment to edit, rewrite, and reorganize the original comprehensive, scholarly treatise and to bring the story up-to-date.
          The result is a cultural and environmental history of the Red Hills region in general and the plantation community specifically. The volume spans thousands of years of human interaction with the land, from Indian prehistory through European settlement, the Gilded Age, the twentieth century, and ending in the present.