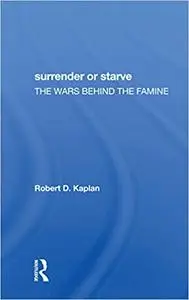 Robert D Kaplan, "Surrender Or Starve: The Wars Behind The Famine"
English | 1988 | ISBN: 0813307546, 0367304694, 0367289237 | 188 pages | EPUB | 2.1 MB
Famine in the Horn is both a tool and an aspect of ethnic conflict, with the Ethiopian Amharas of the central highlands pitted against the Eritreans and Tigreans of the north. The overwhelming majority of U.S. journalists have reported on Ethiopia from one side only-that of the Amharas in Addis Ababa. The author wants to show the story from the other side, in order to redress a grievous imbalance in news coverage. To get people excited, you sometimes have to light a fire, and that was the author's intention. This book covers the period from late 1984 to the early part of 1987. In late 1987, the famine returned, mainly for the very reasons cited inside.