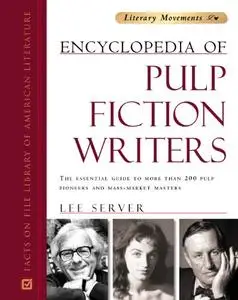 Encyclopedia of Pulp Fiction Writers: by Lee Server
English | 30 Nov. 2002 | ISBN: 0816045771 | 320 Pages | PDF | 2.4 MB
This volume offers a survey of the scores of well-known and unsung heroes of popular literature. It seeks to cover the entire spectrum of pop literature's greatest entertainers and artists; the multimillion-copy bestsellers; and the inventors of the modern genres, such as the western, the hardboiled detective novel, the spy thriller, science fiction, horror, the legal thriller, crime fiction and the erotic/romance novel. The work also profiles colourful but lesser-known underground figures, as well as a wide variety of talented paperback authors who were never given their due. Each of the 200 entries includes a brief biography along with a list of the author's writing credits. The authors covered include: V.C. Andrews; Ray Bradbury; Jackie Collins; Lester Dent; Ian Fleming; Erle Stanley Gardner; David Goodis; Zane Grey; Chester Himes; Louis L'Amour; H.P. Lovecraft; Mario Puzo; Jacqueline Susann; and more.