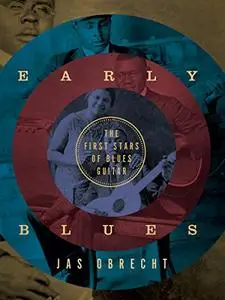 Early Blues: The First Stars of Blues Guitar by Jas Obrecht
English | November 9, 2015 | ISBN: 081669804X, ASIN: B014GKFZXG | EPUB/AZW3/PDF | 224 pages | 5.4/5.6/9.3 MB
Since the early 1900s, blues and the guitar have traveled side by side. This book tells the story of their pairing from the first reported sightings of blues musicians, to the rise of nationally known stars, to the onset of the Great Depression, when blues recording virtually came to a halt.
Like the best music documentaries, Early Blues: The First Stars of Blues Guitar interweaves musical history, quotes from celebrated musicians (B.B. King, John Lee Hooker, Ry Cooder, and Johnny Winter, to name a few), and a spellbinding array of life stories to illustrate the early days of blues guitar in rich and resounding detail. In these chapters, you'll meet Sylvester Weaver, who recorded the world's first guitar solos, and Paramount Records artists Papa Charlie Jackson, Blind Lemon Jefferson, and Blind Blake, the "King of Ragtime Blues Guitar." Blind Willie McTell, the Southeast's superlative twelve-string guitar player, and Blind Willie Johnson, street-corner evangelist of sublime gospel blues, also get their due, as do Lonnie Johnson, the era's most influential blues guitarist; Mississippi John Hurt, with his gentle, guileless voice and syncopated fingerpicking style; and slide guitarist Tampa Red, "the Guitar Wizard."
Drawing on a deep archive of documents, photographs, record company ads, complete discographies, and up-to-date findings of leading researchers, this is the most comprehensive and complete account ever written of the early stars of blues guitar—an essential chapter in the history of American music.