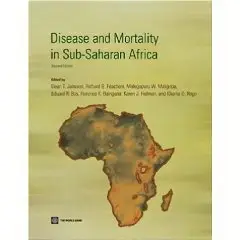 Disease And Mortality in Sub-saharan Africa
Publisher: World Bank Publications | ISBN: 0821363972 | edition 2006 | PDF | 416 pages | 4.46 mb
The aim of this publication is to provide policy makers with a comprehensive resource of information on the nature and extent of health problems in sub-Saharan Africa and the health care strategies that show the most promise. Not all trends have been negative but the overall picture is not encouraging. The deep impact on this region of the HIV/AIDS epidemic is fully covered. Updates to the data on morbidity and mortality from 1990 to 2004 are put into context with discussions of the conflicts and wars, famines and droughts, the migration of human resources, and the global economic downturn that have affected the health of the region's population. Sub-Saharan Africa is not on course to achieve any of the public health Millennium Development Goals. HIV/AIDS has led to a stalling or reversal of gains made in health indicators, including infant and under-five mortality rates, life expectancy at birth. The epidemic has not only increased the spread of communicable disorders - tuberculosis, malaria, respiratory tract infections, diarrhoea - but has also affected the epidemiology of cancers, such as Karposi's sarcoma, mental health disorders, such as depression, and neurological disorders such as dementia. As the deadline of 2015 nears for the achievement of the three major health Millennium Development Goals, it is important for the continuing improvement of disease surveillance, the timely sharing of public health information, and wise policy decisions.