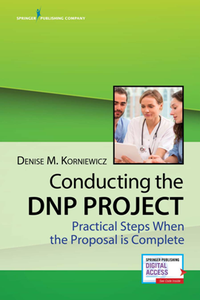 Conducting the DNP Project : Practical Steps When the Proposal Is Complete
by Denise M. Korniewicz
English | 2020 | ISBN: 0826168264 | 245 Pages | PDF/ePub | 6.47 MB
A "how-to" approach to navigating the strenuous path from DNP plan to completed project
You completed your DNP proposal and have approval to proceed: What's next? How do you move from proposal phase to conduct and complete your project? This text is the first to discuss the practical steps to implement and complete the project and will help DNP students to systematically transition from plan to action. Written by an author with extensive experience helping students with their quality improvement projects, the text educates readers on the core components of conducting the clinical scholarly project.
With a focus on working effectively with clinical staff, the book addresses IRB approval; ethics; working with human subjects; project planning; collecting, analyzing, and interpreting clinical data; disseminating findings; and how to complete the project in a timely manner. It discusses interprofessional collaboration, team building, and how to debrief project participants. Examples of successful scholarly projects and recommendations for project improvement offer additional guidance, along with consideration of common problems that many students face and how to resolve them. Objectives and review questions are provided in selected chapters.
Key Features:
- Delivers practical, step-by-step strategies for implementing and completing the DNP project
- Focuses on finding and effectively communicating with team members
- Explains how to collect, analyze, and interpret clinical data
- Describes how to establish protocol for working with patients
- Offers chapter objectives, review questions, and case studies demonstrating major content components
If you want to support my blog, then you can buy a premium account through any of my files (i.e. on the download page of my book). In this case, I get a percent of sale and can continue to delight you with new books!