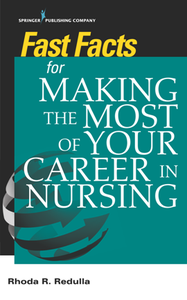 Fast Facts for Making the Most of Your Career in Nursing
by Rhoda R. Redulla
English | 2021 | ISBN: 0826173144 | 276 Pages | PDF/ePUB | 5.13 MB
Optimize your career potential and inspire your career narrative!
This how-to resource is brimming with practical strategies and guidance to help nurses advance in all stages of their professional journey. Written for professionals at all levels of education and experience, this book features a wide range of "Success Stories" from nurses who have experienced the challenges of role development firsthand. This book will be helpful to healthcare organizations in pursuing the American Nurses Credentialing Center (ANCC) Magnet Recognition Program® and Pathway to Excellence®. It will provide insight on how healthcare organizations can best support nurses in developing professionally.
This Fast Facts book addresses the importance of the Quadruple Aim throughout health care and its effects on individual nurses. It provides specific advice on confidently navigating opportunities and obstacles through networking, research, scholarly presentation, and certification. Special topics include self-care, nursing as a second career, and the transition of nurse immigrants into a career in the US.
Key Features:
- Offers helpful advice to nurses who are "stuck" in their professional nursing journey
- Candid and moving examples from knowledgeable, diverse nurses
- Addresses the importance of working in Magnet Recognition and Pathway to Excellence Programs
- Explains how to develop networks, competencies, and interpersonal skills
If you want to support my blog, then you can buy a premium account through any of my files (i.e. on the download page of my book). In this case, I get a percent of sale and can continue to delight you with new books!