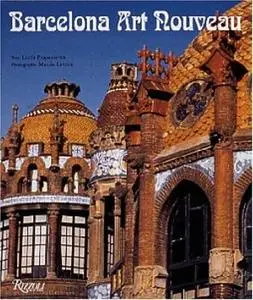 Barcelona Art Nouveau
Publisher:Rizzoli International Publications( 1999-10-01) | ISBN-10: 0847822206 | PDF | 8.3 Mb | 167 pages
London is famous for Big Ben; Paris for the Eiffel Tower; Rome for the Colosseum. Barcelona, on the other hand, is not identified by one or two famous buildings as these other European cities, but rather by an entire movement of turn-of-the-century architecture known simply as Modernisme. Familiar to Americans as art nouveau, its most famous practitioner was the artist and architect Antoni Gaudi. But the city is filled with superb examples of art nouveau in vivid color in Barcelona Art Nouveau.
This book offers a tour of 46 houses, public buildings, and monuments in the art-nouveau style, including brand-new photographs of the work of Gaudi. Visit the famous literary cafe Els Quarte Gats, which was once patronized by Pablo Picasso, who also designed the menu. Lose yourself in the whimsical curves of Casa Josep Batllo, a wonderful example of the combination of artisan tradition and richness that exemplifies art nouveau.
These structures, fully restored to pristine condition for the 1992 Olympics, have been rediscovered by both foreigners and Barcelonans alike, and are captured inside and out in this fascinating record of the adventurous, undulating designs of an exciting era.