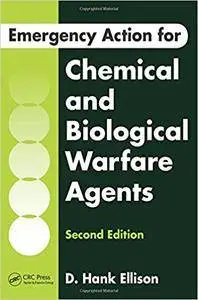 D. Hank Ellison, "Emergency Action for Chemical and Biological Warfare Agents"
1999 | pages: 288 | ISBN: 0849302412 | PDF | 11,0 mb
A HazMat team evacuates five square miles of a city business district in response to a chemical spill. Ten city blocks away, a police special response team forms a perimeter around an office building where a terrorist threatens the release of a deadly chemical agent. Meanwhile, paramedics administer first aid to victims exposed to a possible vesicant.
In the real-life world of emergency response, nothing is more crucial to crisis personnel than quick and decisive action. D. Hank Ellison's Emergency Action for Chemical and Biological Warfare Agents tells police, paramedics, and firefighters just what actions to take in the event of a crisis involving hazardous materials.
The book contains abridged versions of the class indices from Ellison's larger Handbook of Chemical and Biological Warfare Agents. The indices deal with classes of agents (nerve, blister, etc.) instead of focusing on specific agents. Each index contains information on the toxicology/health impacts, physical characteristics, hazards from fire or reactivity, protection of personnel, and general first aid for that agent class.
Designed to provide rapid access to critical emergency information at the scene of a release of chemical or biological warfare agents, this handy field guide is also ideal for facilitating the coordination with off-site personnel who have access to more comprehensive information in Ellison's larger Handbook. It differs from its larger companion, however, in that agent specific data, as well as information on evacuation distances, are listed in table format, making it the ideal tool for emergency responders deployed in the field.
My Link