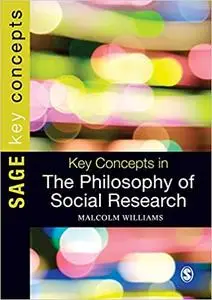 Malcolm Williams, "Key Concepts in the Philosophy of Social Research "
English | ISBN: 0857027425 | 2016 | 240 pages | PDF | 807 KB
"This is a splendid book, providing a readable and reliable guide to a very large range of topics and literature… the author brings together, as few of us can, the details of research methodology and practice with broader philosophical perspectives and approaches."
- William Outhwaite, Emeritus Professor, Newcastle University
"We need researchers who are philosophically informed rather than philosophically obsessed or philosophically oppressed. With this book Malcolm Williams strikes the exact balance."
- Ray Pawson, Emeritus Professor, University of Leeds
This book is an ideal introduction for any student or social researcher hoping to better understand the philosophical issues that inform social research. Williams is the perfect guide providing short focused introductions to key concepts alongside a persuasive and engaging overview of how we interpret and conduct research.
The book covers everything from core research methods, to ethical concerns and an exploration of the metaphysics of social life, with each entry providing:
Clear definitions
Engaging real world examples
Up-do-date suggestions for further reading
Informative cross-referencing
Lists of key thinkers.
Relevant and authoritative, this book is an indispensable introduction to the philosophy of social research.