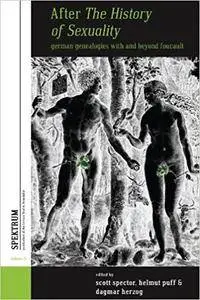 Scott Spector, "After "The History of Sexuality": German Genealogies with and Beyond Foucault"
English | ISBN: 0857459376, 0857453734 | 2012 | 320 pages | PDF | 3 MB
This is an important collection of essays, many of them very original and outstanding, that will further the field of history of sexuality in general and will contribute to the German historiography in particular. · Lutz Sauerteig, University of Durham
This volume provides a thought provoking and thorough engagement with various aspects of Foucault's writing, at once paying homage to core themes in the history of German sexuality and charting a course for future research…The organization, structure, and coherence of each section is very strong…Most intriguing is its blend of approaches and blurring of time, distance (the Atlantic divide in scholarship, that is), and disciplinarity. · Jennifer Evans, Carleton University
Michel Foucault's seminal The History of Sexuality (1976-1984) has since its publication provided a context for the emergence of critical historical studies of sexuality. This collection reassesses the state of the historiography on sexuality-a field in which the German case has been traditionally central. In many diverse ways, the Foucauldian intervention has governed the formation of questions in the field as well as the assumptions about how some of these questions should be answered. It can be argued, however, that some of these revolutionary insights have ossified into dogmas or truisms within the field. Yet, as these contributions meticulously reveal, those very truisms, when revisited with a fresh eye, can lead to new, unexpected insights into the history of sexuality, necessitating a return to and reinterpretation of Foucault's richly complex work. This volume will be necessary reading for students of historical sexuality as well as for those readers in German history and German studies generally who have an interest in the history of sexuality.
Scott Spector is Professor in the Department of History and Professor and Chair of Germanic Languages and Literatures at the University of Michigan, Ann Arbor.
Helmut Puff is Professor in the Departments of History and Germanic Languages at the University of Michigan, Ann Arbor.
Dagmar Herzog is Distinguished Professor of History and Daniel Rose Faculty Scholar at the Graduate Center, City University of New York.