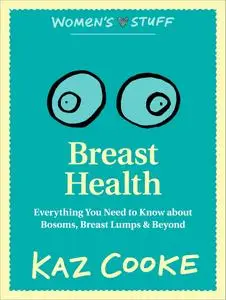 Breast Health: Everything You Need to Know about Bosoms, Breast Lumps & Beyond by Kaz Cooke
English | March 27, 2013 | ISBN: 085797081X | EPUB | 40 pages | 4.9 MB
Are your breasts in rude health, a useful size and pointing in the right direction? Kaz Cooke explains how to look after your breasts, breast reduction and enlargement surgery, what to do if you find a lump, what to expect from medical procedures, and what you need to know about breast cancer - including cheering info about survival rates. With input from experts and quotes from real women, this ebook is based on the 'Breast Health' and 'Cosmetic Surgery & Procedures' chapters of the bestselling book Women's Stuff.
'a must-have guide to life's challenges from relationships to health, housework and sex, with comments and quotes from women around the world.' B Magazine
'a manifesto for the modern Australian woman … chock-a-block with oestrogen-charged information and advice (and) delivered with Cooke's signature irreverent and razor-sharp repartee.' Melbourne Weekly
'Fun, friendly and serious by turn … There's no 'fibs, faff or fakery' here, ladies. This best friend gives it to you straight and with the best of intentions.' Sunday Mail (Brisbane)