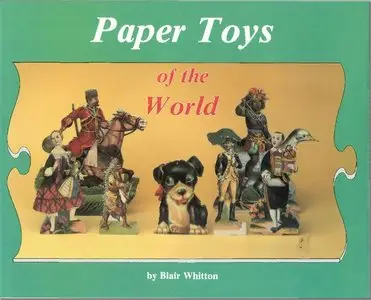 Blair Whitton, "Paper Toys of the World"
Hobby House Pr Inc | 1986 | ISBN: 0875882897 | 240 pages | Djvu | 23,2 MB
Chapter I. The Early I listory of Paper
Making & Printing 8
Chapter II. Paper Folding &
Educational Card Games …. 10
Chapter III. Game Boards 33
Chapter IV. Blocks & Puzzles 41
Chapter V. Peep Shows, Panoramas &
The Historiscope 47
Chapter VI. Toy Books With Movement
Chapter VII. The Magnificent Paper
Soldier 80
Chapter VIII. Paper Dolls 92
Chapter IX. Cardboard Dollhouses,
Room Settings &
Furnishings 121
Chapter X. Tinsel Figures & The
Theater 143
Chapter XI. The Clowns, The Circus &
The Side Shows 161
Chapter XII. Construction Sets; Shops,
Buildings, Gardens & Zoos
Chapter XIII. Movement by Sand & Hot
Air 187
Chapter XIV. Optical Toys 196
Chapter XV. Transportation Vehicles &
Toys That Fly 201
Chapter XVI. Beautiful or Unusual
Oddities 213
Chapter XVII. Paper Toys For Today's
Collector 228
Chapter XVIII. Paper Conservation Hints
& List of U.S. Patent Papers
Bibliography 237
Index.
Download