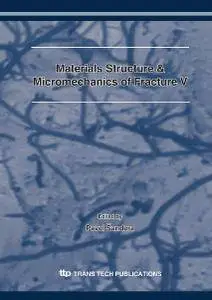 Sandera Pavel, "Materials Structure & Micromechanics of Fracture 5"
English | 2008 | ISBN: 0878494693 | PDF | pages: 450 | 78.1 mb
The main goal of these proceedings was to demonstrate the use of a variety of multi-scale approaches, ranging from the atomistic to the macroscopic level, and in this it succeeds admirably.The MSMF-5 conference has successfully carried on the tradition of the previous conferences. Nearly 180 scientists, from 27 countries in all parts of the world, presented a variety of fundamental relationships between the structural and mechanical characteristics of materials. In collaboration with the International Advisory Board, the organizers have further asked Prof. V. Vitek (University of Pennsylvania, USA), Prof. J. W. Morris (University of California, USA), Prof. H. Mughrabi (University of Erlangen-Nurnberg, Germany), Dr. P. Lukas (Institute of Physics of Materials, Academy of Sciences, Czech Republic), Prof. R. Pippan (Erich Schmid Institute of Materials Science, Austria) and Prof. Y. Kondo (Kyushu University, Japan) to prepare plenary keynote lectures. Other top scientists were invited to provide keynotes for each section.The papers, ordered approximately according to the sequence, atomistic-mesoscopic-macroscopic, are presented in this fascinating volume.