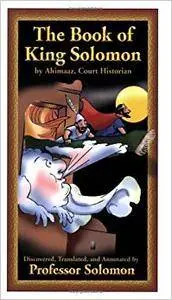 Professor Solomon, "The Book of King Solomon"
2005 | pages: 463 | ISBN: 0912509090 | PDF | 4,6 mb
Professor Solomon claims to have found–and translated from the Hebrew–an old manuscript in the possession of his family. Titled THE BOOK OF KING SOLOMON and attributed to a court historian, it chronicles the life of the celebrated monarch. What was the wisest of men really like? How did he become king? What cases brought him fame as a judge? What were the powers of his ring? Did genies help him to build the Temple? Where did he travel on his flying carpet? What was his relationship with the Queen of Sheba? Did he once wander about as a beggar? And did his foreign wives lead him into idolatry? The answers are to be found in THE BOOK OF KING SOLOMON. It is a tale at once historical and reminiscent of the Arabian Nights. And the Professor has provided an erudite commentary. An entertaining and informative profile of the legendary king. Profusely illustrated.
My Link