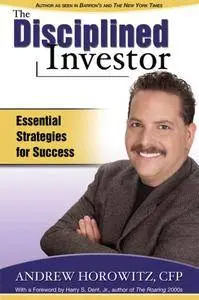 Andrew Horowitz, Harry S. Dent Jr., "The Disciplined Investor: Essential Strategies for Success"
2007 | pages: 250 | ISBN: 0978708377 | PDF | 3,4 mb
Reviews and Praise
In this book, Andrew Horowitz offers sensible, no-nonsense advice to new investors…"— Harry S. Dent, Jr., author of The Next Great Bubble Boom
Andrew is a skilled planner and financial ally to any investor…" —Jeff Zbar, Business Columnist, South Florida Sun-Sentinel
Andrew Horowitz has written The Disciplined Investor as a guide to help all levels of investors in the process of maximizing their hope for success… —Art Sbarsky, Lifestyle Magazines
"…an excellent read for anyone who wants to take control of their financial situation. Horowitz's book provides insights, even to seasoned investors. It is also a great how-to guide for MSN MoneyCentral." —Angelo C. Malahias, Former President, Andrx Corporation
The Disciplined Investor is a must have for anyone who wants to make smart lucrative investments. It is the definitive guide to all things financial…" —Michael Brauser, Owner, Marlin Capital Partners
About The Book
Current financial trends indicate that within the next three to six years global markets could face another significant plunge similar to the market crashes of 1987 and 2000. Securing financial investments now can help to avoid potential problems later. The best defense is to effectively learn how to profit from such investments while at the same time protecting them from market fluctuations. The Disciplined Investor focuses on this goal while demystifying the often-complex world of investment planning. With proven strategies and easy-to-follow instructions, it is the only guide you will need for investment success.
This book will help you:
1) Eliminate emotions from your investment decisions
2) Find out how to match your investment strategy to your risk tolerance
3) Learn why asset allocation is so important when creating an investment portfolio
4) Discover tools for enhancing your portfolio's performance
5) Understand options strategies, diversification and other professional tools
Whether you are new to investing and don t know where to start, or are a seasoned investor and want to protect your portfolio while profiting from it, this book is for you.
My Link