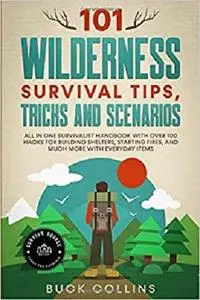 101 Wilderness Survival Tips, Tricks and Scenarios: All In One Survivalist Handbook With Over 100 Hacks For Building Shelters, Starting Fires, and Much More With Everyday Items (Survival Tactics 101) by Buck Collins
English | May 30, 2020 | ISBN: N/A | ASIN: B089CSZ5NM | 62 pages | AZW3 | 0.34 Mb

When it comes to spending a night in the woods, would you suffer or would you survive?
The thought of fending for yourself in the wild
probably evokes the image of a planned trip with time to prepare your mind and body for the exertion. In fact, it's usually an unplanned excursion of getting lost, getting injured, or getting stuck in a storm that forces us out into the elements…
When we least expect to need survival skills is usually when all our precautions fail.
That's why the first thing you'll learn in this book is how to adequately prepare your pack just in case worse comes to worst.
If you are prepared for the worst, then you can not only survive the ordeal, but you can
thrive
in a new environment.
Wilderness Survival Tips, Tricks and Scenarios will teach you:
The #1 golden rule to avoid getting lost
The most effective tips and hacks when it comes to crossing water
5 simple ways to make shelter
How to always stay warm, no matter the situation
3 ways to stay dry in any situation
The easiest and most effective way to make fire out of nothing
Countless techniques and tricks to stay safe on your next trip outdoors!

And that's just the tip of the iceberg…
You'll also love the fill-in-the-blank format of this book because it compels you to apply the information to your own adventures and to LEARN AS YOU GO!
Just as we cannot hope to learn about the outdoors merely by reading a book, we also can't go it alone out there. So take this book with you on your next hike or camping trip and put into practice all that is shared here.
Suffering is a choice brought to us by the refusal to consider the WORST CASE SCENARIO. So always remember your fortune is fully in your hands (Literally, it's in this book).


Feel Free to contact me for book requests, informations or feedbacks.
Without You And Your Support We Can't Continue
Thanks For Buying Premium From My Links For Support