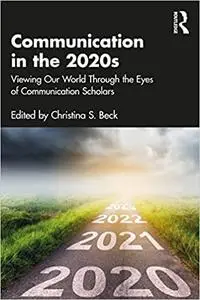 Christina S. Beck, "Communication in the 2020s: Viewing Our World Through the Eyes of Communication Scholars"
English | ISBN: 1032111607 | 2022 | 222 pages | PDF | 2 MB
This book provides an inside look at the discipline of Communication. In this collection of chapters, top scholars from a wide range of subfields discuss how they have experienced and how they study the crucial issues of our time.
The 2020s opened with a series of events with massive implications for the ways we communicate, from the COVID-19 pandemic, a summer of protests for social justice, and climate change-related natural disasters, to one of the most contentious presidential elections in modern U.S. history. The chapters in this book provide snapshots of many of these issues as seen through the eyes of specialists in the major subfields of Communication, including interpersonal, organizational, strategic, environmental, religious, social justice, risk, sport, health, family, instructional, and political communication. Written in an informal style that blends personal narrative with accessible explanation of basic concepts, the book is ideal for introducing students to the range and practical applications of Communication discipline.
Read more