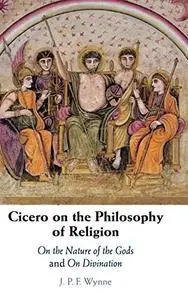 Cicero on the Philosophy of Religion: On the Nature of the Gods and On Divination by J. P. F. Wynne
2020 | ISBN: 1107070481 | English | 318 pages | PDF | 1.5 MB
During the months before and after he saw Julius Caesar assassinated on the Ides of March, 44 BC, Cicero wrote two philosophical dialogues about religion and theology: On the Nature of the Gods and On Divination. This book brings to life his portraits of Stoic and Epicurean theology, as well as the scepticism of the new Academy, his own school. We meet the Epicurean gods who live a life of pleasure and care nothing for us, the determinism and beauty of the Stoic universe, itself our benevolent creator, and the reply to both that traditional religion is better served by a lack of dogma. Cicero hoped that these reflections would renew the traditional religion at Rome, with its prayers and sacrifices, temples and statues, myths and poets, and all forms of divination. This volume is the first to fully investigate Cicero's dialogues as the work of a careful philosophical author.