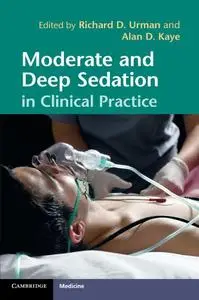 Moderate and Deep Sedation in Clinical Practice by Richard D. Urman, Alan D. Kaye
English | ISBN: 1107400457 | 2012 | 342 pages | PDF | 6 MB
Millions of procedures requiring sedation are performed each year; many occur outside of the operating room in both inpatient and outpatient settings. This tremendous growth has resulted in sedation being administered by a wide range of healthcare providers, including non-anesthesiologist physicians, nurses and nurse practitioners. Moderate and Deep Sedation in Clinical Practice is a concise, practical handbook for all medical and surgical professionals who sedate patients. This up-to-date, evidence based, 'how to' manual will: • Tell you how to evaluate patients • Update you on relevant pharmacology • Advise you on sedation for specific populations; elderly, pediatric, ICU, emergency room, endoscopy and reproductive technologies • Guide you on legal and quality assurance issues Written and edited by experts in procedural sedation and sedation education, this book will help users develop safer techniques, policies and procedures. Essential reading for any healthcare provider administering moderate or deep sedation.
My nickname -
interes