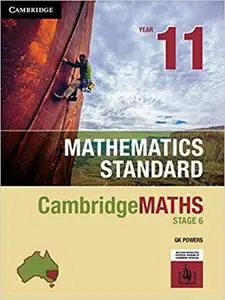 Gregory Powers, "Cambridge Maths Stage 6 NSW Standard Year 11"
English | ISBN: 1108434630 | 2021 | 495 pages | PDF | 101 MB
Cambridge MATHS Mathematics Standard Year 11 provides complete and close coverage of the
NSW Stage 6 Mathematics Standard Year 11 syllabus to be implemented from 2018 including the
November 2017 syllabus update. This course is a common preparation for both the HSC Standard 1 and
HSC Standard 2 courses undertaken in Year 12.
Now part of the CambridgeMATHS series, this resource is part of a continuum from Year 7 through to 12.
The series includes advice on pathways from Stage 5 to Stage 6. The Year 11 resource gives access
to selected Stage 5 CambridgeMATHS/HOTmaths lessons for revision of prior knowledge.