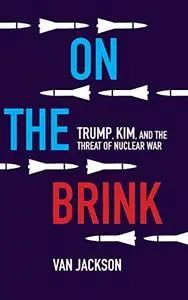 On the Brink: Trump, Kim, and the Threat of Nuclear War by Van Jackson
2018 | ISBN: 1108473482 | English | 248 pages | PDF | 2 MB
In 2017, the world watched as President Donald Trump and North Korean leader Kim Jong Un traded personal insults and escalating threats of nuclear war amid unprecedented shows of military force. Former Pentagon insider and Korean security expert Van Jackson traces the origins of the first American nuclear crisis in the post-Cold War era, and explains the fragile, highly unpredictable way that it ended. Jackson analyzes the US response to North Korea's increasing nuclear threat in the context of Trump's aggressive rhetoric, prior US policy failures, the geopolitics of East Asia, North Korean strategic culture and the acceleration of its nuclear program. Jackson argues that the Trump administration's policy of 'maximum pressure' brought the world much closer to inadvertent nuclear war than many realize - and charts a course for the prevention of future conflicts.