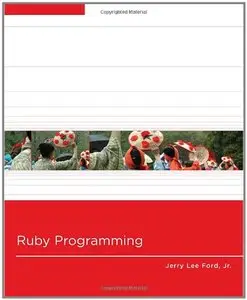 Jerry Lee Ford, "Ruby Programming"
Co rse Techn logy | 2010 | ISBN: 1111222371 | 448 pages | PDF | 6,9 MB
Ruby is a free and powerful programming language that can be used to develop programs to meet nearly any programming challenge, including scripting, application programming and Web development. This new text teaches Ruby programming through a lively hands-on approach and a focus on game development. Students begin by learning the fundamentals of computer programming and will move on to mastering the concepts and principles involved in Ruby programming. Topics covered include formulating regular expressions, basic debugging techniques, and performing file and folder administration. For those students interested in learning how to do Web development with Ruby using Ruby on Rails, this book also provides the necessary prerequisite foundation and introduction.
Download