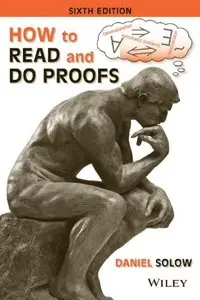 Author, "How to Read and Do Proofs: An Introduction to Mathematical Thought Processes"
2013 | ISBN-10: 1118164024 | 320 pages | PDF | 4,4 MB
Solow, "How to Read and Do Proofs, "provides a systematic approach for teaching students how to read, think about, understand, and create proofs. It develops a method for communicating proofs, categorizing, identifying, and explaining (at the student's level) the various techniques that are used repeatedly in virtually all proofs. These clear, concise explanations promote understanding of the theoretical mathematics behind abstract mathematics and give students a greater opportunity to succeed in advanced courses. Along with the addition of three new chapters, a "Part 2" is added to the Sixth Edition, which focuses on the mathematical thought processes associated with proofs. The teaching of this foregoing thinking processes reduces the time needed for readers to learn advanced mathematics courses while simultaneously increasing their depth of understanding so as to enable them to use mathematics more effectively as a problem-solving tool in their personal and professional lives.