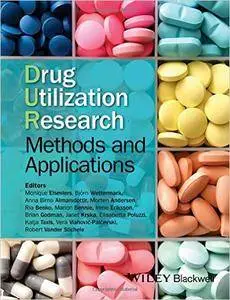 Monique Elseviers and Morten Andersen, "Drug Utilization Research: Methods and Applications"
English | ISBN: 1118949781 | 2016 | 592 pages | PDF | 14 MB
Drug Utilization Research (DUR) includes descriptive and analytical studies forscientific discipline, integrating descriptive and analytical methods for the quantification, understanding and evaluation of the processes of prescribing, dispensing and consumption of medicines and for the testing of interventions to enhance the quality of these processes. The discipline is closely related and linked mainly to the broader field of pharmacoepidemiology, but also to health outcomes research, pharmacovigilance and health economics.
Drug Utilization Research – methods and applications is a unique, practical guide to the assessment and evaluation of prescribing practices and to interventions to improve the use of medicines in populations. Edited by an international expert team from the International Society of Pharmacoepidemiology (ISPE), Drug Utilization Research is the only title to cover both the methodology and applications of drug utilization research and covers areas such as health policy, specific populations, therapeutics and adherence.