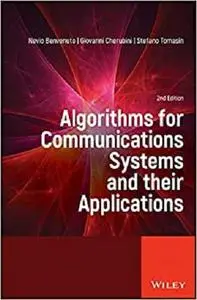 Algorithms for Communications Systems and their Applications, 2nd Edition by Nevio Benvenuto, Giovanni Cherubini, Stefano Tomasin
English | ISBN: 1119567963 | 960 pages | EPUB | January 12, 2021 | 70 Mb
This welcome second edition to the 2002 original presents the logical arithmetical or computational procedures within communications systems that will ensure the solution to various problems.
The authors comprehensively introduce the theoretical elements which are at the basis of the field of algorithms for communications systems. Various applications of these algorithms are then illustrated with a focus on wired and wireless network access technologies. The updated applications will focus on 5G standards, and new material will include MIMO systems (Space-time block coding / Spatial multiplexing / Beamforming and interference management / Channel Estimation /mmWave Model); OFDM and SC-FDMA (Synchronization / Resource allocation (bit and power loading) / Filtered OFDM); Full Duplex Systems (Digital interference cancellation techniques).