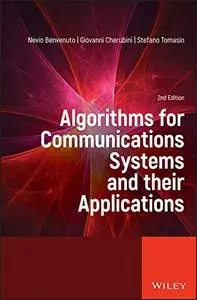 Algorithms for Communications Systems and their Applications
by Nevio Benvenuto
English | 2021 | ISBN: 1119567963 | 961 Pages | PDF true | 24 MB
The authors comprehensively introduce the theoretical elements which are at the basis of the field of algorithms for communications systems. Various applications of these algorithms are then illustrated with a focus on wired and wireless network access technologies. The updated applications will focus on 5G standards, and new material will include MIMO systems (Space-time block coding / Spatial multiplexing / Beamforming and interference management / Channel Estimation /mmWave Model); OFDM and SC-FDMA (Synchronization / Resource allocation (bit and power loading) / Filtered OFDM); Full Duplex Systems (Digital interference cancellation techniques).