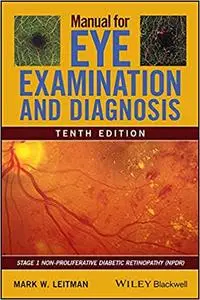 Manual for Eye Examination and Diagnosis
by Leitman, Mark W.;
English | 2021 | ISBN: 111962858X | 227 pages | True PDF | 91.41 MB
Now in its tenth edition, Manual for Eye Examination and Diagnosis is the leading introductory clinical textbook in the field, providing concise and practical coverage of anatomy, instrumentation, differential diagnosis and treatment of ophthalmic diseases and disorders. This accessible resource offers clear explanations of current diagnostic techniques, equipment and best practice; hundreds of full-color clinical photographs and diagrams; and step-by-step guidance on a range of key procedures. Author Mark Leitman, a practicing Ophthalmology specialist with nearly five decades' experience, provides the foundational knowledge required to excel on an ophthalmology rotation. This is a must-have companion for medical students and junior doctors, trainee ophthalmologists and optometrists, optometry nurses, and ophthalmic technicians.