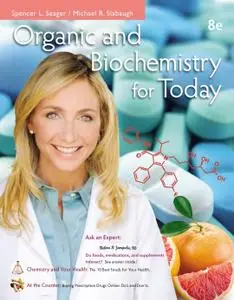 Organic and Biochemistry for Today, 8th Edition by Spencer L. Seager, Michael R. Slabaugh
2013 | True PDF | ISBN: 1133605141 | 552 pages | 102 MB
Develop the problem-solving and critical-thinking skills you need to succeed in your course and allied health career with ORGANIC AND BIOCHEMISTRY FOR TODAY, Eighth Edition. The book's accessible writing style, real-life applications, and case studies will help you appreciate the role chemistry plays in your daily life and will help dispel any fear you may have of chemistry. In addition, the book's examples of chemistry questions found on allied health professional program entrance examinations and the career information provided on the companion website will help you set goals and focus on achieving them. Finally, this proven text integrates online learning tools that will turn your study time into experiences with chemistry–helping you gain a true understanding of chemical concepts. *Please Note: Media content referenced within the product description or the product text may not be available in the ebook version.