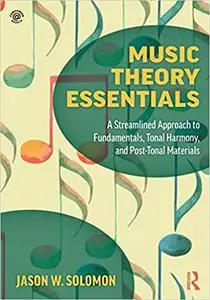 Jason W. Solomon, "Music Theory Essentials: A Streamlined Approach to Fundamentals, Tonal Harmony, and Post-Tonal Materials"
English | ISBN: 1138052531 | 2019 | 322 pages | PDF | 31 MB
Music Theory Essentials offers an antidote to music theory textbooks that are overly long and dense. Focusing on the essentials, this text provides a clear-cut guide to the key concepts of music theory. Beginning with no assumptions about music theory knowledge, the book covers the core elements of music fundamentals, diatonic and chromatic harmony, post-tonal theory, and popular music in a single concise volume. Emphasizing critical thinking skills, this book guides students through conceptualizing musical concepts and mastering analytic techniques.
Each chapter concludes with a selection of applications designed to enhance engagement:
Read more