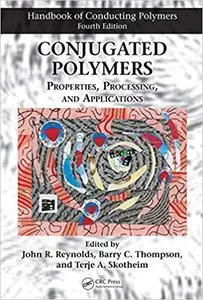 John R. Reynolds, Barry C. Thompson, Terje A. Skotheim, "Conjugated Polymers: Properties, Processing, and Applications"
English | 2019 | ISBN: 1138065706 | PDF | pages: 843 | 141.7 mb
The Fourth Edition of the Handbook of Conducting Polymers, Two-Volume Set continues to be the definitive resource on the topic of conducting polymers. Completely updated with an extensive list of authors that draws on past and new contributors, the book takes into account the significant developments both in fundamental understanding and applications since publication of the previous edition.
One of two volumes comprising the comprehensive Handbook, Conjugated Polymers: Properties, Processing, and Applications features new chapters focusing on these topics within conducting polymers. It discusses properties and characterization, including thermoelectric and mechanical properties, as well as processing and morphology, covering such topics as thermal phase behavior influence on optoelectronic properties, effect of miscibility on organic solar cells, and more. Finally, the book discusses applications, including the use of conducting polymers in stretchable electronics, electrochemical capacitors, and biomedical applications.
Aimed at researchers, advanced students, and industry professionals working in materials science and engineering, this book covers properties, processing, characterization, and morphology in a wide-ranging listing of comprehensive chapters authored by an international team of experts.